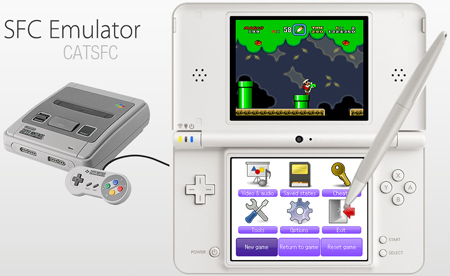 Nuova versione modificata di
BAGSFC
emulatore SNES per
Supercard DS TWO
, che apporta le seguenti migliorie:
Changelog:
CITAZIONE
* Incorporate BassAceGold's filesystem code from TempGBA beta 14. Fixes name corruption.
* 7 localisations completed. Thanks to Aeter, Boriar, Diego Liberal, SignZ and kukuasir.
* Add an option to play the game on the Lower Screen. (No Mouse support, touch == menu).
* Support for SYSTEM/GUI/uicolors.txt. Take the provided file as an example for theming.
* Add the year in the timestamp of newly-created saved states. Compatible with old ones.
* Fix a bug whereby touching a file activated the wrong one in game and cheat selectors.
Per l'installazione:
CITAZIONE
Mettete i file catsfc.plg, catsfc.bmp, e catsfc.ini nella cartella _dstwoplug; mentre la cartella CATSFC potete metterla nella root della vostra MicrosD.