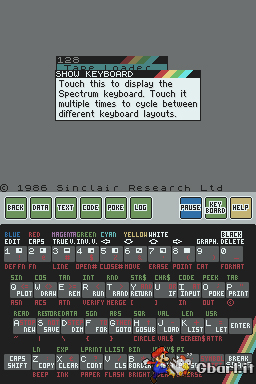 Patrik Rak
rilscia una nuova versione di
ZXDS
, emulatore dello ZX Spectrum per Nintendo DS.
Changelog:
CITAZIONE
+ Custom ROMs support. See roms/readme.txt for more info.
+ IF2 ROMs and 48k/128k ROMs can be loaded directly in load requester.
+ Both SZX and Z80 snapshots now support custom ROMs as well.
+ TR-DOS/Beta Disk support for all models, not only Pentagon.
Simply choose the model or reset the machine while a disk is loaded.
You can also autoboot any disk with current model by using R+A.
+ Beta 128 in 48k mode responds even to the standard Beta 48 entry points.
This makes both Beta 128 and many Beta 48 programs work at the same time.
+ True Beta 48 mode can be enabled with proper beta48.rom (such as TK90X's CBI95 ROM).
+ Added NMI aka Magic button - becomes useful with some custom ROMs.
+ Added custom keyboards for more games as well as one for more comfortable text typing.
+ Added Virtual TR-DOS games and ZX AAA demos sites to servers.cfg.
* Pressing Start twice upon startup now takes you to the last used files view.
* Few subtle changes (save slot media loading, ROM launch stats).
* Little optimizations (Z80 core, sound generation, normal speed load mode).
* Subtle emulation improvements (authentic SCF/CCF, MEMPTR and AY white noise).
* Minor bugfixes (grayscale border, step direction bit).
! Merry Christmas.