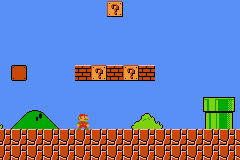 Dwedit
dopo svariati anni di silezio, rilascia una nuova versione di
PocketNES
, emulatore del NES per
GBA
.
Ricordiamo che si tratta di un emulatore in grado di funzionare sia su GBA che su DS (purchè munito di una flashcard slot2).
Changelog:
CITAZIONE
Awesome Features:
* Seamless sound, no more crackling on square wave channels.
* Correct frequency sweeps and triangle wave volume.
* Completely automatic speedhacks that just work, so there's no menu for them anymore.
* FAST. Turn off VSYNC and watch the games zoom.
* Many parts are are more accurate than before.
* Working Savestates
* Fixed many bugs
* DMC IRQs! Play Fire Hawk and Mig 29 Soviet Fighter!
* Dendy mode

PocketNES (2012/07/06) Changelog:
- Minor update, now supports mapper 206, and code was changed to build with the newest version of DevkitARM.
- Mapper 206 (DEROM) is like a cut-down version of MMC3, found in games like RBI Baseball, Gauntlet, Ring King, or Super Sprint. ROMS using this mapper used to be marked as Mapper 004 (MMC3).