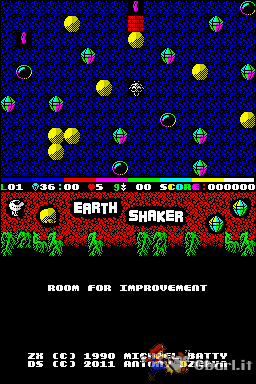 ant512
ha rilasciato una nuova versione di
EarthShakerDS
, clone di
Boulder Dash
per
Nintendo DS
.
Dopo il presunto abbandono degli aggiornamenti, il coder è tornato ad aggiornare il gioco e siamo quasi alla versione finale!

Changelog:
CITAZIONE
- The ability to load and save levels in the editor with user-defined names (so you can have more than one custom level, and share them with other people);
- A "Custom Level" option on the title screen listing all user-created levels
- Slightly re-organised level editor;
- The ability to load and save boulder/wall/door/soil types in a custom level;
- Fixed for the latest devkitARM;
- Updated to the latest WoopsiGfxGameTemplate (fixes SDL version);
- Start button can be used to test a level in the editor;
- Select button can page through level editor menu panels.

I need to finish off the file requester in the level editor and it'll finally be finished.