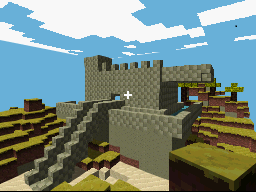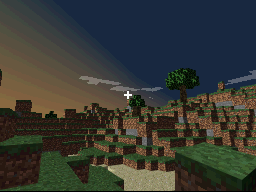 Chi non conosce
Minecraft
? Il coder
smealum
è al lavoro su un adattamento per DS del famoso sand-box, o almeno della parte chiamata
Creative Mode
(cioè quella che permette di esplorare e costruire). L'intenzione è quella di inserire anche la controparte survival, ma per il momento poco da lamentarsi.

Di seguito la lista delle feature e qualche veloce istruzione sull'installazione (sono disponibili due versioni definite "Fat" e "NitroFS", le trovate entrambe nello stesso archivio)
» Clicca per leggere lo Spoiler! «
Changelog:
CITAZIONE
- added ladders and doors
- added new dynamic lighting to make caves darker
- added underwater effect
- added control scheme 3 (doesn't require shoulder buttons)
- added mc2ds, a Minecraft to DScraft world converter
- added mapUpdate, a program to recalculate some lighting values to work better with 310811
- included new default worlds
- made it easier to get out of water (again)
- fixed torch placing related bugs
- fixed quad cache overflow bug
- fixed inventory-opening crash
- fixed moon
- fixed menu glitch
- fixed edge related bugs
- many other various bugfixes

/!\ IMPORTANT /!\ : included in this version is a program named mapUpdate. This program is designed to update worlds made with previous versions of the game to work better on 310811. (it will mostly fix trees) Simply drag and drop you map file on mapUpdate.exe and let it work for a second; it should create a brand new testmap.map file.