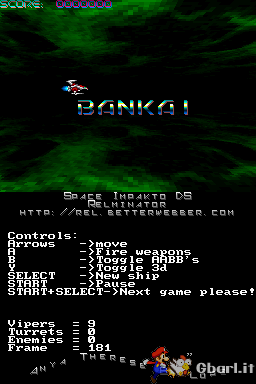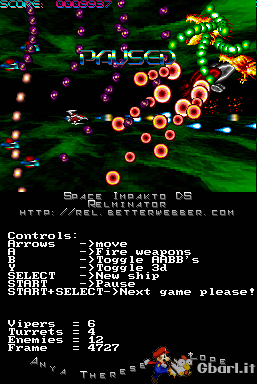 relminator
ha aggiornato il suo homebrew
Space Impakto DS
, shoot 'em up 2D per NDS.
Ecco il breve changelog:
CITAZIONE
v1.0.1 (05/30/2011)
-Fixed the bug in the replay system interface.
-Changed the Replay System Interface to a more intuitive one.
-Normal and Boss Rush has different highscore tables.
-Second loop!
-Loop 2 is the "HARD MODE"(For HardCore BulletHell players) ala Strikers 1999 and Gunbird 2.
-Loop 2 is reminiscent of Psykyo 2nd loops where you kill something, it explodes bullets.
-Level is also spawnign "popcorn" enemies when facing bosses to up the ante of difficulty.
-Edited some enemy sequence to make the first loop beatable w/o using a single bomb.

v1.0.0 (05/27/11)
-Finally got it non beta!!!
-Fixed the replay system for Red Agila (mistyped variable)
-Changed how the intermission screen works
-Boss Rush Mode
-BGM is attenuated when pausing
-Added more menu items
-Added a way to save or load Replays(3 slots)
-Player is able return to main menu when paused.