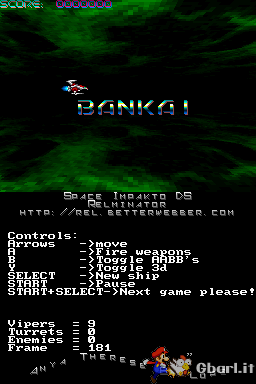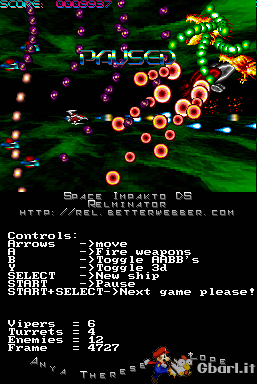 relminator
ha aggiornato il suo homebrew
Space Impakto DS
, shoot 'em up 2D/3D per NDS.
Ecco il breve changelog:
CITAZIONE
v 0.9.1b (05/26/11)
- Added bomb powerup
- Added 1-Up
- Changed the font on the subscreen BG to make it bigger
- Added Modariffic.com on the splash screen
- Player "aura" when invincible
- Intermission screen
- Can't continue when in replay mode
- Each ship has a different bombtype
- Current Hi-score is loaded from file if present
- Reconfigured sound modules for better channel use.

v0.9.0b (05/23/11)
- Finalized level BGs
- Added per level BGMs
- Fixed projection matrix bugs (3d and 2d z-fighting)
- Added more SFX
- Sequenced stages 2-4
- HighScore table is externally saved
- Fixed some sound issues
- Reactivated "Replay" system
- Replay now saved even if you don't finish the level.