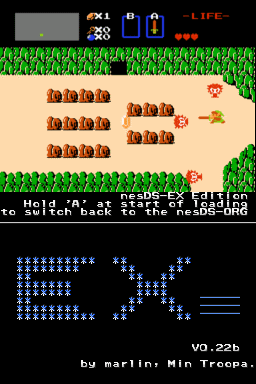 marlin e min troopa
rilasciano una versione
NesDS
(di Nichole), emulatore del NES!
Questa versione nasce con l'intento di far partire rom che con la normale release non partirebbero; inoltre si puņ passare da una versione all'atra con un click. L'emulatore era precedentemente chiamato NesDS EX, dato che apparentemente la nuova versione e quella "classica" di Nichole sono diventati un unico progetto.
Changelog delle versioni 0.50a e a2:
CITAZIONE
0.50a2:
All memory needed is pre-allocated, and all malloc() are deleted.. This is done for those who cannot run nesDS well.
The average length of roms' names MUST be lower than 64bytes, for saving memory.
MAX_ROM_SIZE is set to 3M.
Delay for multi-player is slightly lower.
Mapper4 is updated. e.g. tmnt3 works well now.
Path for nesDS.ini is updated. Available paths now are:"/","/_dstwoplug/","/ismartplug/","/moonshl2/extlink/","/_iMenu/_ini/","/_plugin_/"

0.50a:
Nifi/Multi-players supported.
Cheat re-added.
About/Help tip added.
NTSC/PAL timing supported.
Roms menu cached, which will speed up the rom menu when start another game.
some bugs fixed.