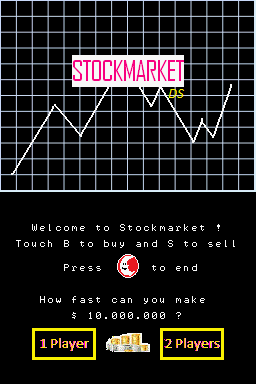 kalfster
rilascia una nuova versione di
Stockmarket DS
, un curioso gioco di compravendite simulate in cui si parte con 1.000$ e il cui obiettivo è arrivare a possedere la somma di 10.000.000 nel minor tempo possibile.
I comandi sono molto semplici. Si tocca B sul touch screen per comprare un oggetto e S per rivenderlo.
Parole dell'autore:
CITAZIONE
series of delete objects is for if the menu changes from main screen to buy or sell screen and removes the buttons from previous menu
i solved it with alarm indeed
my code is very ugly

but the animation is working great now and adds to the enjoyment of buying/selling
enclosed an in between update of the game but i am waiting for new gfx so
wont attach it to main post yet, only sell animation is tuned correct now, buy not yet.
check it out if you want, as said, waiting for gfx
update coming with more events, better info on assets and better gfx