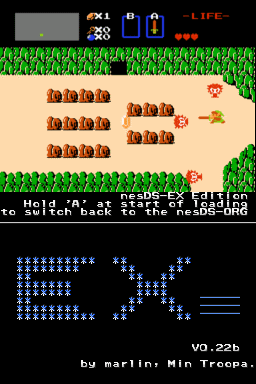 marlin e min troopa
rilasciano una versione
NesDS
(di Nichole), emulatore del NES!
Questa versione nasce con l'intento di far partire rom che con la normale release non partirebbero; inoltre si puņ passare da una versione all'atra con un click. L'emulatore era precedentemente chiamato NesDS EX, dato che apparentemente la nuova versione e quella "classica" di Nichole sono diventati un unico progetto.
Changelog:
CITAZIONE
v0.45a Changelog:
Add the shout-cuts for configuration.
Sound fixed.. better than 0.44b. Almost no noise(not the noise channel).
sprite0y of 'per-scanline' fixed.
h-blank interrupt handler added, which was removed since 0.44b.
some other chanegs.. No update for mappers.

v0.44b Changelog:
A bug of cartflags was fixed, which will definitely make the game unable to save..
something about 'fetch_c' was changed, which may cause some problem. the bug logged in 0.43 was related to this.
set the nes ram reset value to 0x0, not 0xFFFFFFFF, which will cause the 'Super Mario' starting from world 0-1.
Supprised that karateka(j) works now...