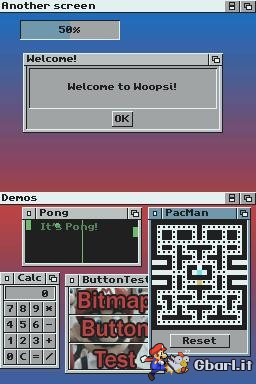 ant512
rilascia una nuova versione del suo
Woopsi
, libreria per la creazione di interfacce grafiche.
Ancora niente per la versione 1.0, si sta facendo attendere pił del previsto.

L'archivio contiene i sorgenti e la demo in formato
[.nds]
Changelog:
CITAZIONE
Fixes:
- All makefiles no longer create .ds.gba and .sc.nds binaries.
- Fonts include doxygen comments.
- Amended return type of some font properties (Lakedaemon).
- Reorganised PSD and BMP files.
- Prevented demo build process from unnecessarily including BMP files.
- Fixed divide by 0 when content size is 0 in SliderVertical and SliderHorizontal::resizeGrip().
- SDL fixes.
- GraphicsPort maps between co-ordinate systems more accurately; fixes clipping problems.

New Features:
- Built with devKitARM r31/libnds 1.4.5/default ARM7 0.5.14.
- Setting MultiLineTextBox's max rows to -1 forces it to retain all text.
- Added getCharTop() to font classes.
- Various minor .NET tool improvements.
- Added Gadget::checkCollision(Rect&).
- Added drawBaselineText() to Graphics and GraphicsPort classes (Lakedaemon).
- Added freetype outline font class (Lakedaemon).
- Added Install.bat install script for Windows users.
- Python bmp2font script updated to match output of .NET tools.