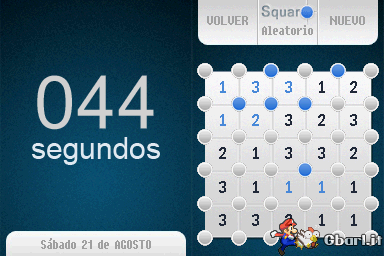 Aguilera_87
ha creato un porting per NDS di
SquarO
, simpatico puzzle game che rappresenta una via di mezzo tra Sudoku e Campo Fiorito. Per chi non sapesse le regole, si deve cercare di cliccare e riempire i vari cerchi soddisfando i requisiti legati ai numeri all'interno dei quadrati: un quadrato con un 2 all'interno ci indicherà che solo 2 dei 4 cerchi posti agli angoli dovranno essere riempiti e così via per ogni casella!
Ogni livello ha una sola soluzione, raggiungibile solo se soddisfatti tutti i requisiti dei quadrati che compongono la scacchiera.
Ecco le parole dell'autore:
CITAZIONE
Project description:
It's my port of SquarO to Nintendo DS.
SquarO is a single-player casual game with a touch of Sudoku and Minesweeper. You can play Squaro for just a few minutes whenever, wherever you want to, even when you are waiting for your laundry to be done!

How to use:
Sinmply, put it in your flashcart and enjoy wherever you want. All controls with stylus.