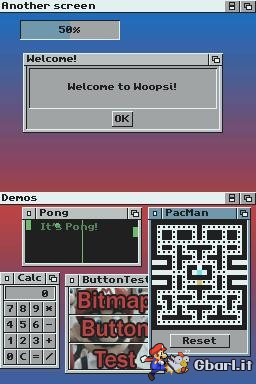 ant512
rilascia una nuova versione del suo
Woopsi
, libreria per la creazione di interfacce grafiche.
Ancora niente per la versione 1.0, si sta facendo attendere pił del previsto.

L'archivio contiene i sorgenti e la demo in formato
[.nds]
Changelog:
CITAZIONE
- Fixes:
- Replaced clipping code in Gadget::clipRectToHierarchy() with call to new
Rect functions.
- PackedFont16::renderChar() aborts correctly if there is nothing to render
(Lakedaemon).
- Bitmap::getData(x, y) no longer declared inline (Lakedaemon).
- Renamed gunsuh15.bmp and gunsuhche15.bmp to gungsuh15.bmp and
gungsuhche15.bmp respectively.
- Deleted CourierMono as it was an exact duplicate of Courier.
- Converted most fonts to PackedFont1.
- Converted GlyphFont to PackedFont16 (manually altered class to force
fixed-width).
- Removed Font and MonoFont classes (PackedFont classes are faster and more
efficient).
- bmp2font upgraded to latest version - no longer creates gigantic arrays in
PackedFont1 fonts; removed support for Font and MonoFont classes.

- New Features:
- Added getPath() to FileRequester and FileListBox.
- Converted Rect struct to class.
- Added Gadget::getRelativeX() and getRelativeY().
- Replaced x, y, width and height members of Gadget class with a Rect.