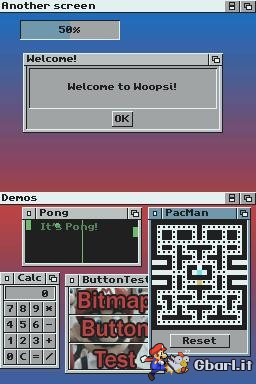 ant512
rilascia una nuova versione del suo
Woopsi
, libreria per la creazione di interfacce grafiche.
A quanto pare l'HB è praticamente completo, quindi presto vedremo la versione 1.0
L'archivio contiene i sorgenti e la demo in formato
[.nds]
Changelog:
CITAZIONE
This version fixes bugs in the slider and scrollbar gadgets.

Fixes:
- Rewrote SliderVertical and SliderHorizontal again to improve accuracy.
- Removed jumpGrip() from all slider gagdets.
- Added setValueWithBitshift() to all slider gadgets.
- Added getMinimumStep() to SliderVertical and SliderHorizontal.
- Removed getValuesPerPixel() from all slider gadgets.