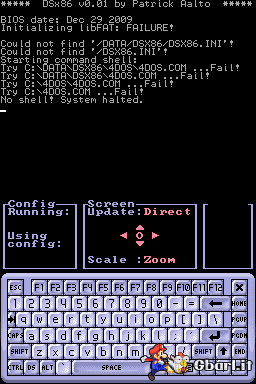 Patrick Aalto
ha aggiornato il suo emulatore DOS per Nintendo DS chiamato
DSx86
portandolo alla versione 0.11!
L'hb e' ancora in versione beta, pertanto non stupitevi se le performance non sono delle migliori: lo stesso creatore afferma che l'emulatore e' in continuo sviluppo.

Changelog:
CITAZIONE
This version has the following major changes:

- Master of Orion and Electranoid are running in this version.
- New mouse emulation mode, you can use the touchpad as a direct mouse
input with the stylys.
- Increased EMS memory to 1.5MB.
- Preliminary EGA 640x200x16 mode support.
- DOS System File Table handling, which fixes problems with the 4DOS
batch file functions.
- Many problems in log files I have received fixed, more info in my blog
post.
SITO DELLO SVILUPPATORE
DOWNLOAD