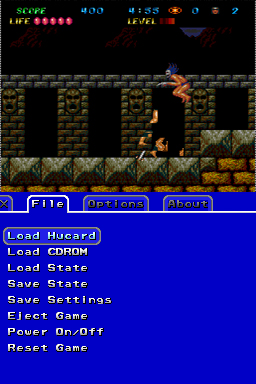 FluBBa
rilascia
NitroGrafx
, emulatore del
PC-Engine e TurboGrafx
per DS.
L'emulatore supporta i giochi in formato
[.pce]
e
[.iso]
estratti dai CD.
Nell'archivio Ŕ presente un
[.txt]
con la lista dei giochi compatibili.
Changelog:
CITAZIONE
Fixed CPU cycles per scanline (455, confirmed on hardware).
Fixed timing of scroll register writes.
Fixed Sprite DMA IRQ handling.
Fixed savestates a bit (should be compatible between versions now).
Fixed scaling after loading savestate.
Fixed caching of Bios.
Better timing of ADPCM playing (still no sound though).
Debug output now optional, also more info is written.
DOWNLOAD
SITO UFFICIALE