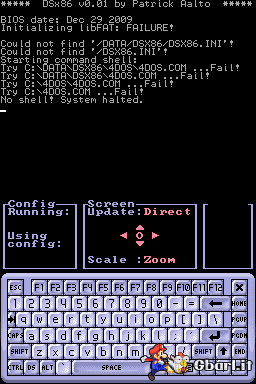 Patrick Aalto
ha aggiornato il suo emulatore DOS per Nintendo DS chiamato
DSx86
!
L'hb e' ancora in versione beta, pertanto non stupitevi se le performance non sono delle migliori: lo stesso creatore afferma che l'emulatore e' in continuo sviluppo.

Changelog:
CITAZIONE
This version has a great number of changes, the most important being:

- Mouse support. You can select whether the D-Pad emulates cursor keys or
mouse by toggling the "Mouse"/"Keybd" text on the touchpad. A/B buttons
are the mouse buttons when in mouse mode.
- VGA Mode-X support. All 320-pixel wide modes (320x200, 320x240, 320x400,
320x480) are supported, other widths not yet. The modes with 400 lines
or more are prescaled vertically to fit into 200/240 lines (and to get
a sensible image aspect ratio).
- CGA 640x200 monochrome mode support.
- Key repeat added. When you keep a key down, it repeats, like in a real
PC keyboard.
- Many problems in log files I have received fixed, more info in my blog
post.
SITO DELLO SVILUPPATORE
DOWNLOAD
Grazie a
R3Y3S
per la segnalazione!