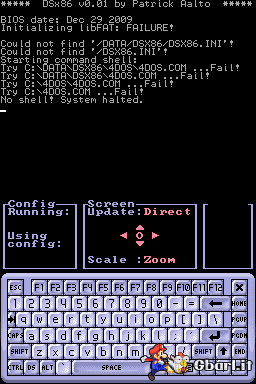 Patrick Aalto
ha aggiornato il suo emulatore DOS per Nintendo DS chiamato
DSx86
!
L'hb e' ancora in versione alpha, pertanto non stupitevi se le performance non sono delle migliori: lo stesso creatore afferma che l'emulatore e' in continuo sviluppo.

Changelog:
CITAZIONE
Okay, version 0.04 is released. I hacked the CHMOD code in DSx86 so the Elite save games work. It needs to be fixed properly in a future version, though.

Feel free to test again the games you tested on 0.03, as many of the problems in the logs have been fixed (I hope).

It might take some time before the next version, as some of the parts I ordered for my new PC have a "10-20 work days" delivery time. I hope I get them sooner, though.
Lista titoli compatibili:
» Clicca per leggere lo Spoiler! «
SITO DELLO SVILUPPATORE
DOWNLOAD