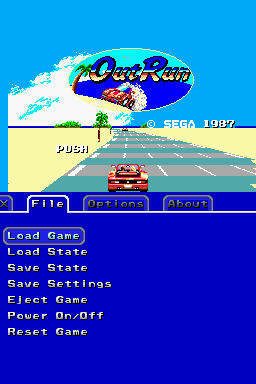 FluBBa
dopo averci deliziato con Goomba e tanti altri emulatori, si mette al lavoro su
S8DS
, porting di
SMSAdvance
, emulatore del Sega Master System (sempre dello stesso autore).
Parole dell'autore:
CITAZIONE
More or less a port of SMSAdvance to the NDS now under the name of S8DS, as it's a SEGA 8-bit emulator for the DS.
The biggest difference from the GBA is probably that you don't have to use a builder to add roms, you can use zipped files directly and the screen doesn't have to be scaled to fit.

*Pretty much everything works perfectly.
*Supports zipped files.
*No scaling needed for most games.
*Can scale to correct aspect for PAL, NTSC & GameGear.
*Savestates.
SITO UFFICIALE
DOWNLOAD