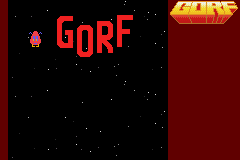 Jess Ragan
sta lavorando al porting di
Gorf
su NDS, ed ha rilasciato da poco il fix della Beta 98.
Ecco la nota dell'autore tratta dal suo blog:
CITAZIONE
Yet more news on the GORF front. I've purged a few bugs from the previous build, and it should (should) work with 3-in-1 cartridges now. If you'd like to contribute to the project, I'd appreciate a list of what works with the game and what won't. Here's an early preliminary list, compiled from player input on the AtariAge and Denial web sites. The fix should resolve some of the issues people have had with their hardware, but not all. As usual, if you play the game on untested hardware, you do so at your own risk, but I'd appreciate any testing and status reports you're willing to provide.
DOWNLOAD
SITO UFFICIALE