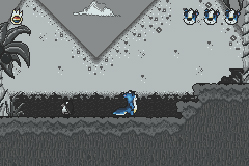 Il protagonista di questo simpatico platform per GBA, Numchuck, verra' guidato dal giocatore nel tentativo di riportare i colori nel proprio mondo, diventato improvvisamente in bianco e nero. Sconfiggendo i nemici e raccogliendo oggetti per i diversi stage, Numchuck puo' quindi riportare il colore nel suo ambiente divenuto ormai monocromatico.
Ecco le parole dell'autore,
eric3dee
, e le istruzioni per giocare:
CITAZIONE
Ok, so I've been sitting on a one-level game demo I developed (with the help of a very talented programmer, Tim Sorrels) in 2005, and I figured since the DSi was about to delete which did away with the GBA slot, I better go ahead and release it to the homebrew public while the format is still fairly relevant.

Admittedly there are a few bugs and the difficulty is substantial for this level and the gameplay could use some work, so forgive me- this was my first attempt at game development! But hey, I'm proud of the end result

Gameplay is as follows:
A to jump
B to paint swipe
Hold B to run, jump while running to spin attack
Holding B while in midair to bounce off the top of an enemy and paint them.
DOWNLOAD
THREAD DI RILASCIO