http://www.shunyweb.info/
Questa non è proprio un'applicazione, bensì uno script PHP (creato da Shuny un programmatore Francese) che ci permette di convertire i salvataggi delle nostre Flashcard.
Purtroppo in questo momento il sito è offline per troppe visite percio' non riusciro' a pubblicarvi la lista ufficiale dei salvataggi compatibili.
CLICCA QUI PER VISITARE IL SITO
Tips & Tricks
Spesso ShunyWeb viene usato in accoppiata di GameFaq, un sito dove si possono scaricare molti save, che se non compatibili con la propria card o emulatore verranno convertiti su ShunyWeb. Questo trucco è stato molte volte consigliato in GBArl.
Rominator
Esso è un organizzatore di roms (s'intendono i backup) del Nintendo DS
Queste sono le feature:
» Clicca per leggere lo Spoiler! «
Si scarica
QUI
CocoDS
Nato ispirando Renominator, CocoDS presenta una grafica migliorata e delle promesse feature interessanti...
Nello spoiler le feature:
» Clicca per leggere lo Spoiler! «
Il programma si scarica qui
QUI
DLDI Drop - DLDI patcher the mac way
Esso è un Progetto Xcode-Applescript, per patchare con le DLDI
Nello spoiler il changelog di tutte le versioni:
» Clicca per leggere lo Spoiler! «
Si scarica qui:
http://www.blogadresse.de/2007/01/29/dldi-...er-the-mac-way/
DS TrimDrop
Questo semplice tool ci permette di trimmare le nostre roms (s'intende i backup)
Nello spoiler il changelog dell'ultima versione
» Clicca per leggere lo Spoiler! «
[/spoiler]
DSvideo
Per il fantastico homebrew DSvideo, l'encoder per filmati ufficiale, per ora, solo per Mac Intel
Si scarica
QUI
Pictods
Finalmente, l'applicazione per convertire i fumetti per ComicBookDs è tra noi!
Si scarica da
QUI
(Si ringrazia Ophelia per il link)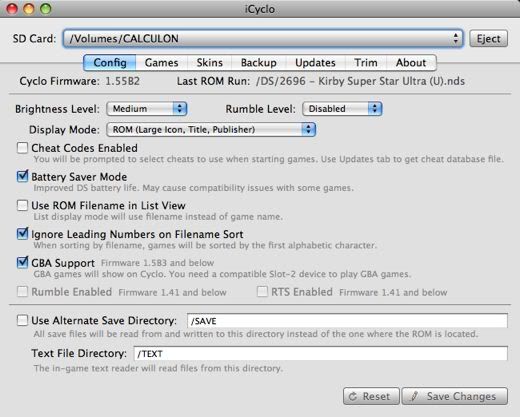 iCyclo
Questo programma serve per chi possiede una CYCLODS, avete a disposizione diversi tool tra i quali l'editor skin
FEATURES:
CITAZIONE
* Auto-detect attached microSD cards setup for CycloDS
* Edit CycloDS settings, such as brightness level and view options
* View and manage NDS and GBA games on both DS and Mac
* Set games' file icons in Finder to be the same as their internal DS icon
* View skins on both DS and Mac, and copy between them.
* Easily change skin names and text colors.
* Download skins directly from NDSThemes.com
* Backup save and RTS files to computer
* Matches backed up saves to games, even after file name changes.
* Write comments for backed up saves to help you remember what they are later.
* Automatically download latest CycloDS cheat file from GBATemp.net
* Safely trim NDS ROM files.
* Automatic notifications of new iCyclo versions.
* Compatible with all CycloDS firmware versions.
DOWNLOAD VIA MEDIAFIRE
Media-Convert.com
Con queste due applicazioni online possiamo convertire i nostri video in DPG leggibili dal Moonsheel