Inviato da: OniAle il Monday 18 June 2012 - 18:49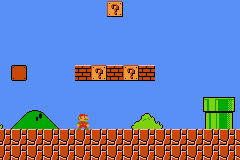 Dwedit
dopo svariati anni di silezio, rilascia una nuova versione di
PocketNES
, emulatore del NES per
GBA
.
Ricordiamo che si tratta di un emulatore in grado di funzionare sia su GBA che su DS (purchŔ munito di una flashcard slot2).
Changelog:
CITAZIONE
Awesome Features:
* Seamless sound, no more crackling on square wave channels.
* Correct frequency sweeps and triangle wave volume.
* Completely automatic speedhacks that just work, so there's no menu for them anymore.
* FAST. Turn off VSYNC and watch the games zoom.
* Many parts are are more accurate than before.
* Working Savestates
* Fixed many bugs
* DMC IRQs! Play Fire Hawk and Mig 29 Soviet Fighter!
* Dendy mode

Broken: (These were in the previous branch, but have not yet been reprogrammed)
* Mapper #9, #17, #33, #40, #64, 73, #105
http://www.pocketheaven.com/ph/boards/viewtopic.php?t=7385 http://www.gbarl.it/index.php?autocom=downloads&showfile=894
Inviato da: Gemini il Tuesday 19 June 2012 - 00:46
GiÓ Ŕ scomodo giocarci su DS per via della risoluzione tagliata se non vengono applicate modalitÓ con immagine schiacciata verticalmente (che tra l'altro Ŕ inguardabile), figuriamoci su GBA che ha una risoluzione ancora pi¨ bassa. Anche aggiornando l'impossibile e ottimizzando il core, la vedo dura a ottenere qualcosa di realmente "autentico".