Inviato da: DS_PSP il Monday 10 October 2011 - 15:05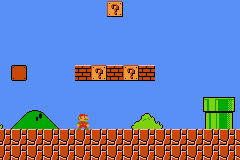 Dwedit
dopo svariati anni di silezio, rilascia una nuova versione di
PocketNES
, emulatore del NES per
GBA
.
Ricordiamo che si tratta di un emulatore in grado di funzionare sia su GBA che su DS (purchè munito di una flashcard slot2).
Changelog:
CITAZIONE
Awesome Features:
* Seamless sound, no more crackling on square wave channels.
* Correct frequency sweeps and triangle wave volume.
* Completely automatic speedhacks that just work, so there's no menu for them anymore.
* FAST. Turn off VSYNC and watch the games zoom.
* Many parts are are more accurate than before.
* Working Savestates
* Fixed many bugs
http://www.pocketheaven.com/ph/boards/viewtopic.php?t=7385 http://www.gbarl.it/index.php?autocom=downloads&showfile=894
Inviato da: DS_PSP il Monday 10 October 2011 - 15:06
Quanto adoro quando escono/aggiornano gli HB per GBA *-*
Questo va dritto nella mia EZ4 *-*

Inviato da: Tizio Verde il Monday 10 October 2011 - 15:44
Mi è arrivata giusto l'altro giono la EZ IV, appena mi arriva l'adattatore lo provo subito.